Biomarkers-2019
About Conference
Euroscicon welcomes you all to its new event 13th World Biomarkers and clinical research conference is going to held in the city of Vienna, Austria on August 22-23, 2019 with theme "Congregation of revolutionary biomarker innovations and emerging clinical research concepts''
Biomarkers 2019 is 2-day scientific event, business meeting, trade fair and exhibition in the alluring city of Vienna, Austria. Advancements in Biomarkers 2019 brings an opportunity to discuss and learn about the advancements in biomarker studies that access together a unique and international experts, scientists and decision makers both from academia and industry across the world to exchange their knowledge, research innovations & expertise in the arena of cancer treatment. It includes Keynote presentations, Poster presentations, Oral presentations (Speaker forum and Young research forum), and Exhibitions. This pinnacle brings together the senior level experts with a perfect union for multidisciplinary concert between scientists, innovators, academicians from all over the world working in the different fields of Cancer & Oncology Research.
Call for Abstracts are open for Keynote Forum, Oral performances, E-Poster presentations, Speaker forums, Young research forums and scientific posters across the list of tracks publicized in our website and we also welcome if they meet the objectives of the conference related to other topics that we are not mentioned. We hope and anticipate theme"Congregation of revolutionary biomarker innovations and emerging clinical research concepts" to inspire a number of research centres, institutions and organizations and look forward to explore, innovations, new researches, findings and alliances , in this International Academic Forum biomarkers 2019.
Why To Attend?
Vienna, the capital city of Austria one of the worlds most preferred and advanced cities. Vienna is famous for its cultural events, archaeological and arts treasures. Euroscicon is proud to host 13th World Biomarkers and Clinical Research Conference in Vienna, Austria on August 22-23, 2019. Biomarkers 2019 will provide an opportunity for large mass of participants from the Biomarkers and its associated fields to share with colleagues and debate the latest advances in the field. We invite Biomarkers researchers, Oncologists, clinical Researchers, Radiologists, Pathologists, Immunologists, professors, scientists, Business professionals (Directors, presidents, CEO) and students in the field of Biomarkers in related disciplines to come together and inform each other in an environment conducive to education and interaction. Conduct presentations, distribute statistics, meet with modern and potential scientists, construct a dashing with new Development of Biomarkers and receive name identification at this 2-day event. Renowned speakers, most recent techniques, evolutions and innovations are hallmarks of this Biomarkers 2019 conference.
Target audience
Target Audience
This unique international conference provides a platform for researchers and decision makers in Biomarkers 2019 to present their latest findings. Conference on Biomarkers is a package of useful and latest advancements by professional researchers & scientists
Biomarkers 2019 Welcomes:
Cancer Researchers

oncologists

Clinical Researchers

Gynecologists

Radiologists

Pathologists

Immunologist

Scientists

Students

Young research

Faculty

Cancer Associations and Societies

Business Entrepreneurs

Training Institutes

Pharmaceutical Companies

Medical Devices Companies
Sessions/Tracks
Biomarker is the indicator that can be accurately measured as signal of normal biological functioning, pathogenic paths or a drug response to a therapeutic drug mediation. Biomarkers are usually in molecular form. Biomarkers take place in various body functions including disease diagnosis, prognosis, prediction and treatment and safety estimation. These Biomarkers are being developed and confirmed to be used in drug development and to support approval of drug products.
Nucleic acid biomarkers
Protein Biomarkers
Small molecule biomarkers
Lipid biomarkers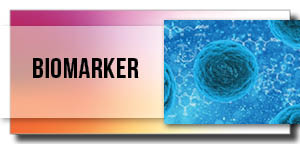 Molecular biomarkers defined as biomarkers that can be discovered using basic and acceptable platforms such as genomics and proteomics. Apart from genomics and proteomics platforms, biomarker assay techniques like metabolomics, lipidomics, glycemics, and secretomics are the most commonly used as techniques in identification of biomarkers. Molecular biomarkers are classified into Pathological biomarkers, Nucleic acid biomarkers, Insilco biomarkers, Glycoprotein biomarkers & Imaging biomarkers based on their structure and functioning. These such biomarkers can be tested in non-obtrusively gathered bio-fluids like blood or serum.
Pathological biomarkers
Genetic biomarkers
Imaging biomarkers
Glycoprotein biomarkers
In silico biomarkers
MicroRNA biomarkers
Mapping of genetic markers
Serum testing
Biomarkers in Noncancerous diseases
Biomarkers plays an important role in prognosis and diagnosis of various cardiovascular and neurological diseases. The diseases which are deadly from ages has a possible treatment and easy diagnosis with the help of advancements in biomarkers through different diagnostics methods and imaging technologies. Cardiac biomarkers and neuro biomarkers brought a great revolution in disease diagnosis and prognosis. These biomarkers are also used in many other non-cancerous diseases. Some of the important ones are Alzheimer's disease, cardiovascular diseases, Huntington's disease, Neurodegenerative diseases, Diabetes and Bechet's disease.
Biomarkers for Alzheimer's
Biomarkers for Cardiovascular diseases
Biomarkers for Neurodegenerative diseases
Biomarkers for diabetes
Biomarkers for Huntington s disease
Biomarkers for Bechet s disease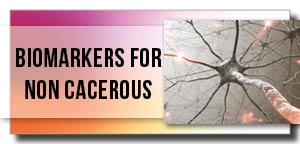 The biomarkers used in treatment of cancer is called as cancer biomarkers. Now a days biomarkers plays a crucial role in cancer prognosis, diagnosis and treatment of cancers. Role of biomarkers in cancer research and medicine are Risk assessment, Diagnosis, Prognosis and treatment predictions, Pharmacodynamics and Pharmacokinetics, Monitoring treatment response and Recurrence. There are different types of cancer biomarkers like Prognostic, Pharmacodynamic, Predictive. The major types of cancers in which biomarkers are widely being used in lung cancer, breast cancer, blood cancer, prostate cancer and colorectal cancer. Cancer biomarkers conferences provide a good platform to enhance discussion on various new researches.
Prognostic cancer biomarker
Pharmacodynamic cancer biomarker
Predictive cancer biomarker
Biomarkers for lung cancer
Biomarkers for breast cancer
Biomarkers for blood cancer
Biomarkers for colorectal cancer
Biomarkers for gastric cancer
Uses of biomarkers in Cancer Research
Biomarker discovery requires sure identification with real-time quantitative information to indicate proteins which are altering to a statistically applicable degree in response to disease. The discovery of biomarkers has been developed a new strategy from the initial stages. In the first stage of biomarker discovery proceedings, investigation depends upon mass spectrometry techniques to make unbiased, semiquantitative analysis of changes between healthy and diseased conditions. The slope of probable biomarkers generated in the discovery stage is to be further substantiated due to the high negative rate. It is done through more targeted and quantitative mass spectrometry techniques, such as immune affinity peptide enrichment.
Under this track, the latest trends in discovery and development and identification biomarkers are discussed. There are many new strategies fashioned in development of biomarkers. In this section advancements of biomarkers in various sectors like pediatric diseases biomarkers, clinical biomarkers, and clinical analysis of NGS samples are covered.
New strategies for discovery
Protein biomarker discovery
Clinical biomarker advancements
Biomarkers for pediatric diseases
Clinical analysis of NGS samples
Mass spectrometry biomarker discovery
Biomarkers which are used for clinical purposes are known as clinical biomarkers. Clinical biomarkers provide active and influential way to understanding the scope of many diseases and epidemiology, random clinical trials, screening for drugs or disease diagnosis and prognosis. It is defined as changes in the constituents of cells or body fluids, these clinical biomarkers offer the means for standardized classification of a disease and risk factors that can extend the basic information about the underlying pathogenesis of diseases. The main researches in clinical biomarkers are done in the fields of drug discovery, pharmacogenomics, oncology, and disease diagnostics. Classes of Biomarkers in Clinical trials are segmented into Safety biomarkers & Efficacy biomarkers.
Safety biomarkers
Efficacy biomarkers
Clinical trials of biomarkers in drug discovery
Clinical trials of biomarkers and pharmacogenomics
Clinical trials of biomarkers in oncology
Clinical trials of biomarkers in diagnostics
Digital biomarkers are used to collect the data about disease management through digital health technologies to predict health-related outcomes. As the role of biosensors, wearables and mobile health in modern healthcare evolves, the potential of digital biomarkers to continually monitor patient health, rapidly diagnose disease, and accurately predict outcomes becomes increasingly apparent. Physiological data may now be collected via digital devices such as portables, wearables, and implantables. It includes electronic medical records such as patient history, medical imaging, genetics, etc. as well as patient-generated data. Digital Biomarkers in drug development.
Digital Biomarkers in drug development
Digital Biomarkers Clinical development
Biosensors
Applications & Case studies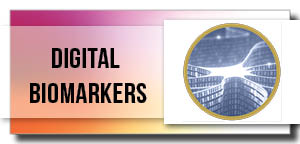 Biomarker testing or genetic testing is a group of tests that looks for the molecular signs of health so that doctors can treat with best care. Biomarkers, foundation of precision oncology, are very important in management of gastro-esophageal cancer, breast cancer and lung cancer. Testing practices are intensely deliberated, influencing diagnostic quality and affecting pathologists, oncologists and patients. The advances in biomarker testing are mainly in the fields of cancers in which divided in to Chromosomes tests, Gene tests & Biochemical tests. MicroRNA biomarkers, Insilco biomarkers and several other clinical biomarkers evolved in the recent research have opened to the path for biomarker testing broader.
Genetic testing
Biomarker testing in diagnosis
Biomarker testing for cancers
Biomarker testing for other diseases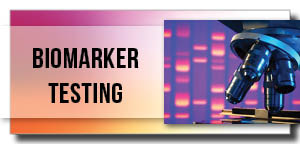 Biomarkers based on epidemiological investigations
Biomarkers have been classified based on the epidemiological investigations exposure to disease & biomarkers of disease which are also used in the investigation of the natural history and prognosis of a disease. In addition to the factors between exposure and disease, biomarkers have the potential to identify the earliest events in the natural history, reducing the rate of misclassification of both disease and exposure, leads to increase potential mechanisms related to the disease pathogenesis, accounting for some of the variability and effect modification of risk prediction. These epidemiological investigations are one of the reasons behind biomarkers to improve validity while reducing bias in the measurement of exposures (or risk factors) for neurological disease.
Environmental exposures
Effect modifiers
Risk factors
Screening
Diagnostic tests
Prognosis
Emerging Therapeutic Biomarkers
A reliable therapeutic biomarker would facilitate the identity of current management algorithms, ensure that pathogenic mechanisms were eliminated prior to treatment withdrawal, and reduce the frequency of unnecessary sustained therapy. Hence there are various researches in progress to discover new biomarkers for various diseases starting from cardiovascular disorders to autoimmune disorders and Genetic disorders.
Melanoma
Ovarian cancer
Endometrial Cancer
Non-small cell lung cancer
Lung Cancer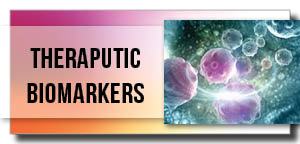 Biomarkers plays particularly role in the field of 'personalized medicine'. Moreover, they may be helpful in detecting therapeutic and adverse responses and patient stratification based on efficacy or safety prediction. Thus, biomarkers are essential tools for the selection of appropriate patients for treatment with certain drugs to and enable personalized medicine, that is 'providing the right treatment to the right patient, at the right dose at the right time'. Prognostic biomarkers are of used in treatment for malignant conditions. Similarly, Diagnostic biomarkers are important in autoimmune diseases. Disease severity biomarkers are helpful tools in the treatment for inflammatory skin diseases. Identification, qualification and implementation of the different kinds of biomarkers are challenging and frequently necessitate collaborative efforts.
DNA biomarkers
Drug development and usage
Metabolomics disorders
Immune disorders.
Genetic disorders
Research in cancer has create different methodologies for analysis, treatment and cure. Research investigations range from the study of disease transmission to the execution of clinical trials and think about utilizations of the different medicines. These applications include surgery, radiation treatment, chemotherapy, hormone treatment, immunotherapy and advancements in treatment modalities chemo radiotherapy is one of the examples which has developed. Beginning in the mid-1990s, the in clinical diseases explorations moved towards treatments derived from biotechnology research, for example, tumor immunotherapy and quality treatment.
Radiation treatment
Hormone treatment
Tumor immunotherapy
Chemoradiotherapy
Radiation treatment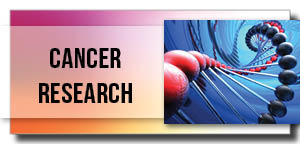 Biomarkers discover is major important application in the field of cancer innovations through Biomarker meetings. Bioethics is a protected innovation which makes to increase the standard of theory regarding clinical approval of biomarkers. Right now, use of biomarkers is blasting business. A large portion of the developed associations like PAREXEL, Pfizer and Quintiles are into clinical innovative work. Different types of reporting bias and publication bias make the association between CRP and prognosis among patients with stable coronary disease one of the most emerging innovative work by using prognostic biomarker. Publication bias, statistical analytic protocols and registration of studies are one of other measures which might help increase the quality of prognostic biomarker research.
Bioethics
Analytic protocols of biomarkers
Case studies
Market Analysis
Growth in the biomarkers market is due to factors such as increase applications of diagnostic biomarkers, R&D in pharmaceutical and biotech fields, the high vouge of cancer, new innovations in biomarker research and low cost of clinical trials in developing countries. High capital investments and low cost ratio, poorly suited financial systems and technical issues related to and storage are the major factors restraining the growth of this market.Based on the type biomarkers market is divided into safety, efficacy, and validation biomarkers. The efficacy biomarkers segment is further classified into predictive, surrogate, pharmacodynamic, and prognostic biomarkers. However, the efficacy biomarkers division is approximated to register the highest CAGR during the outlook period.Based on the applications of biomarkers their market is categorized into diagnostics, drug discovery & development, personalized medicine, disease risk assessment, and other applications (Ecotoxicology,DNA fingerprinting and forensics). The category of diagnostics biomarkers is estimated to account for the largest share of the market due to factors like increasing prevalence of cancer, technologically developed biomarker products, advancements in treatments of cancer, and the need for early-stage cancer diagnosis are driving the growth of this segment.
Overview on biomarkers market:
The global biomarkers market has increased demand in recent years due to the rapid growth of population, rapid growth in IT industry which leads to increasing efforts towards the drug discovery. The entry of new entrepuners is expected to further boost the growth of the market. The advancements and innovations of biomarkers in medical arena such as research and cancer treatment will propel the future growth of the global biomarkers market. Biomarkers are broadly used to detect diseases such as immunological disorders, neurological disorders, cancer, cardiovascular disorders, and others. In the arena of oncology, recently three biological markers have been added to conventional breast cancer risk models to identify women at a higher risk of breast cancer
The major competitors of global biomarkers market include Qiagen N.V., PerkinElmer, Qiagen N.V., Merck Millipore, Enzo Biochem, Bio-Rad Laboratories, EKF Diagnostics, Meso Scale Diagnostics, Biosims Technologies Sas, Cisbio Bioassays and Signosis. The companies make use of strategies by new advancements and innovations collaborating and developing a new product by expanding its revenue share in biomarkers market.
Global Vocal Biomarkers Market:
Sound vibrations are used as part of therapeutic healing for various mental health conditions such as anxiety and depression. Recent research studies, however, have greatly widen its applications into diagnosis of various diseases. On successful completion of clinical trials, HIPAA compliant vocal biomarker system would serve as much more alternative methods to current diagnostic techniques such as MRI, X-Ray, and CT scan. Research is also ongoing for identifying vocal biomarkers in diagnosis of Parkinson's disease, traumatic brain injury, cognitive impairment, and respiratory disorders, which would open up a highly profitable avenue for growth for players in this industry. Since last 22 years companies dealing with vocal biomarkers is on researching by sampling data to provide accurate results and it has collected over 2.5 million voice samples in over 40 different languages.
Cancer Biomarkers Software Market
Global Cancer Biomarkers Market research report 2018 and forecast to 2025 provides a complete analysis of the market size, share, growth, trend, demand, outlook, classification revenue details, competitive scenario, industry Analysis, markets forecast, manufacturers, type, application.
This report researches the worldwide Cancer Biomarkers market size in regions like North America, Europe, Asia Pacific (China, Japan) and other regions.
Report includes the estimation of market size for value i.e. million US$ and volume (K Units). Both top-down and bottom-up access have been used to confirm the market size of Cancer Biomarkers market and also to estimate the size of various other dependent submarkets in the overall market. The leading players of market shares in the market have been identified and determined through their primary and secondary research. All percentage shares, splits, and breakdowns have been determined using verified primary sources and secondary sources which also help to analyzes the market status, market share, growth rate, future trends, market drivers, opportunities and challenges, risks and entry barriers, sales channels, distributors and Porter's Five Forces Analysis.
The following manufacturers are covered in this report:
Roche Diagnostics Ltd

Thermo Fisher Scientific Inc.

F. Hoffmann-La Roche Ltd

Agilent Technologies

Qiagen NV

Merck & Co., Inc.

Novartis AG

Genomic Health, Inc.

Affymetrix Inc.

Abbott Laboratories
Why Vienna?
Vienna the capital of Austria, one of the worlds most preferred and advanced cities. Vienna is famous for its cultural events, imperial sights, coffee houses, costly wine taverns, and the very special Viennese charm & It is Austria's largest city and 7th largest in the European Union, with a population of about 1.8 million. Vienna is known for its high quality of life. Tourist attraction being among the top ten countries with most tourists, with 23,012,000 foreign visitors each year. Apart from being regarded as the City of Music because of its musical legacy, Vienna is also said to be "The City of Dreams" because it was home to the world's first psychotherapist – Sigmund Freud. The city's roots lie in early Celtic and Roman settlements that transformed into a Medieval and Baroque city, and then the capital of the Austro-Hungarian Empire. It is well known for having played an essential role as a leading European music center, from the great age of Viennese Classicism through the early part of the 20th century. The historic center of Vienna is rich in architectural ensembles, including Baroque castles and gardens, and the late-19th-century Ring strake lined with grand buildings, monuments and parks. Vienna is also home to a number of opera houses, including the Theater an der Wien, the Staatsoper and the Volksoper, the latter being devoted to the typical Viennese operetta. Classical concerts are performed at world-famous venues such as the Wiener Musikverein, home of the Vienna Philharmonic Orchestra known across the world for the annual widely broadcast "New Year's Day Concert", as well as the Wiener Konzerthaus, home of the internationally renowned Vienna Symphony. Many concert venues offer concerts aimed at tourists, featuring popular highlights of Viennese music, particularly the works of Wolfgang Amadeus Mozart, Johann Strauss I, and Johann Strauss II. In a 2005 study of 127 world cities, the Economist Intelligence Unit ranked the city first (in a tie with Vancouver, Canada and San Francisco, US) for the world's most livable cities. Vienna is without a doubt a destination of 21st century.With valid Austrian health insurance, medical services such as hospital visits and doctor's appointments are free to anyone. This city has an major list of medical and healthcare associations including Vienna Cosmetic & Family Dentistry, Academy of Nutrition and Dietetics, Austrian Society of Physical and Rehabilitation Medicine, European Academy of Rehabilitation Medicine, European Bone & Joint Infection Society, British Association of Physicians of Indian Origin, European Society of Cardiology, Central European Healthcare Executives, European Psychiatric Association, European Association of Hospital, European Society for Cosmetic & Aesthetic Dermatology, European Health Management Association, European Herbal & Traditional Medicine Practitioners Association, European Medical Association, European Federation of Osteopaths, European Union of Yoga, European Society for Emergency Medicine etc.
Universities of Austria
European Peace University in Stadtschlaining

Fachhochschulstudiengaenge Burgenland in Eisenstaedt and Pinkafeld

Alpen-Adria-Universität Klagenfurt

University of Applied Sciences in Wiener Neustadt

Danube University Kermes in Krems

Benedict XVI Philosophical-Theological University, Heiligenkreuz

Danube Private University in Krems

New Design University in Sankt Pölten

Karl Landsteiner University of Health Sciences in Krems

IMC University of Applied Sciences Krems in Krems
R